2015 Albany Tulip Queen finalists
Visit www.albanytulipqueen.com for more information on the Albany Tulip Queen & Court.


The finalists are:

Alexandra Cronin, Age 22, Selkirk

Alexandra is currently taking classes at University at Albany in hopes of continuing on to physician assistant school. She graduated from SUNY Brockport with a double major in Dance and Exercise Physiology and now works part-time as a personal trainer at Albany Medical Center. Her volunteer experience includes helping to organize Relay for Life events, a dance benefit to honor leukemia patients, and a Christmas toy drive for children at hospitals. In her free time, Alexandra loves to dance and exercise. Her goal as member of the 2015 Tulip Court is to incorporate exercise events in the classroom and community.
Morgan Elizabeth Heyward, Age 18, Albany

Morgan is a freshman at Russell Sage College working towards her degree in Theatre. Her volunteer experience includes tutoring children and working with the Regional Food Bank, the Albany Police Athletic League, soup kitchens and local animal shelters. In her free time, Morgan enjoys reading, writing poetry, acting and working backstage for theater productions. As a member of the 2015 Tulip Court, her goal is to create an initiative using literature, film and art to support diversity and educate children about other cultures.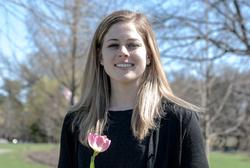 Jacqueline Murphy, Age 23, Albany

Jacqueline graduated from Hobart and William Smith Colleges in 2014 and is now working towards finishing her clinical experience hours in hopes of being accepted to Albany Medical Center's Physicians Assistant Graduate Program. She has volunteered for the Special Olympics Basketball Clinic, Geneva Living Center, Geneva YMCA and the Happiness House. She loves spending time with her family and playing sports. As a member of the 2015 Tulip Court, Jacqueline hopes to start an educational program that creates awareness about bullying and helps teach young children to make positive life choices.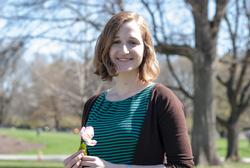 Eva Petkanas, Age 22, Albany

Eva graduated from University at Albany in May 2014 with a degree in Public Policy. Her volunteer experience includes work with the Albany Public Library, Center Square Association, and Aurora Foundation. She enjoys hiking, swimming and going on jogs around Albany to get to know the city better. Eva's goal as a member of the 2015 Tulip Court is to emphasize fitness while encouraging young learners to read.
Sarah Wilamowski, Age 20, Guilderland

Sarah is a current senior at University at Albany who studies Forensic Chemistry. She is an active member of Alpha Phi Omega, a community service organization that participates in several volunteer efforts, including Habitat for Humanity Habitat Restore and highway cleanups. She enjoys spending her time outdoors camping, hiking, swimming, and running, and hopes to complete a marathon within the next few years. Sarah's goal as a member of the 2015 Tulip Court is to increase writing and literacy skills in local classrooms.
2014 Albany Tulip Queen & Court
Queen, Caitlin Whelan, Age 20, Albany
Caitlin is a sophomore at Siena College, where she majors in Psychology with a minor in Health Studies. She is an advocator for the Shared Hope International program, and her volunteer experience includes work with Relay for Life, the Schenectady Mission, Siena Residential Life service trips, National Honor Society and the Susan G. Komen Breast Cancer Walk. Caitlin enjoys volleyball, basketball, swimming, hiking and playing guitar in her spare time. After obtaining her degree, she aspires to enter into the field of Occupational Therapy. Caitlin's goal as a member of the 2014 Tulip Court is to advocate literacy while teaching valuable lessons on the effectiveness of community and creativity as tools to accomplish goals.
Jillian Callanan, Age 20, Albany
Jillian is a sophomore at Union College, where she majors in American Studies and minors in Dance. She's volunteered with the Teresian House, Little Sisters of the Poor and the Mohawk Hudson Humane Society, and spends nearly every weekend caring for her elderly grandparents. Jillian is a member of the Union College Dance Team and is working on creating a program to provide a weekly youth dance class. Much of Jillian's free time is devoted to her lifelong passion for dance, but she also loves animals and crafting. As a member of the 2014 Albany Tulip Court, Jillian hopes to build children's leadership and literacy skills by developing programs that incorporate community interaction and local history.



TaraMarie Crisafulli, Age 21, Loudonville
TaraMarie is a junior Psychology major at Siena College, minoring in English. She is a Siena Bonner Service Leader, volunteering weekly to tutor middle school students in English skills and host an after-school club focused on globalizing education and raising awareness of social diversity. Her community service experience also includes work with Habitat For Humanity, the Siena Soup or Sandwiches Program and the Damietta Cross Cultural Center. Her favorite hobby is baking for her family and friends. TaraMarie aspires to become a teacher and Principal, and as a Tulip Court member she hopes to inspire young people to become involved, responsible members of their community.



Kasmira Wilkins, Age 18, Albany
Kasmira is a graduating senior at Bishop Maginn High School, where she is a member of the National Honor Society and a seven-letter varsity athlete. Kasmira has volunteered with Equinox, the Stephen and Harriett Myers House, Underground Railroad Community Service, St. Sophia's Simple Day of Giving and the Ronald McDonald House, and also coordinates teen programs and community service projects as the Teen President of the Greater Albany Chapter of Jack and Jill of America. Kasmira is a dedicated member of her school's volleyball, track and basketball teams and enjoys baking and reading in her free time. She hopes to play a positive and pivotal role in the lives of Albany youth as a Tulip Court member.
Meghan Yi, Age 23, Albany

Meghan is a first-year medical student at Albany Medical College and holds a degree in Biology from Siena College. Her volunteer experience includes mentoring Albany students as a Team Leader for Project SOAR, biking across America to raise awareness for affordable housing, and teaching math and English to elementary school students in Namibia. In her free time, Meghan enjoys running, biking, crafting, playing guitar and singing with Siena's Praise & Worship group. She plans to pursue a career in primary care after graduation. As a member of the 2014 Tulip Court, Meghan intends to develop fresh, creative programs to continue the Court's longstanding tradition of service and community-building.